Medium
Availability: April-Sep
Regular price
Sale price
£9.95 GBP
Unit price
per
Sale
Temporarily out of stock
The Trinidad Pimento is also known as the Trinidad 'seasoning pepper'. It is the most popular cooking pepper on the islands of Trinidad and Tobago. It turns from light green to dark red or orange red. The elongated peppers can get over 3 inches in length and about 1/2 inch in diameter.
Seasoning peppers are used extensively when making the famous Trinidad 'green' seasoning. This is a marinade which varies from family to family but almost always includes fresh green herbs such culantro/cilantro/parsley/coriander, thyme, onion, garlic, scotch bonnets and of course lots of seasoning peppers. The bulk of the green herbs and often semi ripe seasoning peppers gives the marinade its distinctive green colour as well as its unique aromatic yet fruity aroma and flavour. The marinade is used on grilled meats and vegetables or as a base for soups and stews.
Heat level: heatless to mild with the occasional hot one. These chillies are similar to Pimiento de Padron in that there is the occasional odd hot one. Though, generally they generally mild to heatless. Therefore, it is advisable to try a small amount first. The riper the chilli the hotter it can be; although, this is not always the case and there are often more exceptions to the rule. Learn about Scoville Heat Units (SHUs) here.
Harvest: Starts fruiting about 120 days from potting on as seedlings and under good growing conditions. Pick when the fruits have reached their maximum size. Fruits ripen from green to red.
Size: Plants can grow quite tall up to 1m and will require support.
Packaging & Shipping Information
Each plant is sent in its own box to keep it safe in the post and is shipped with full care instructions.

The plant varieties available will change throughout the season. Plants are sent in 1Ltr (13cm) pots.

Pre-ordered plants are shipped out as soon as the plants are mature enough and have a root ball which is strong enough to cope with the shipping process.
Growers Guide
Please find our chilli growing instructions here.
View full details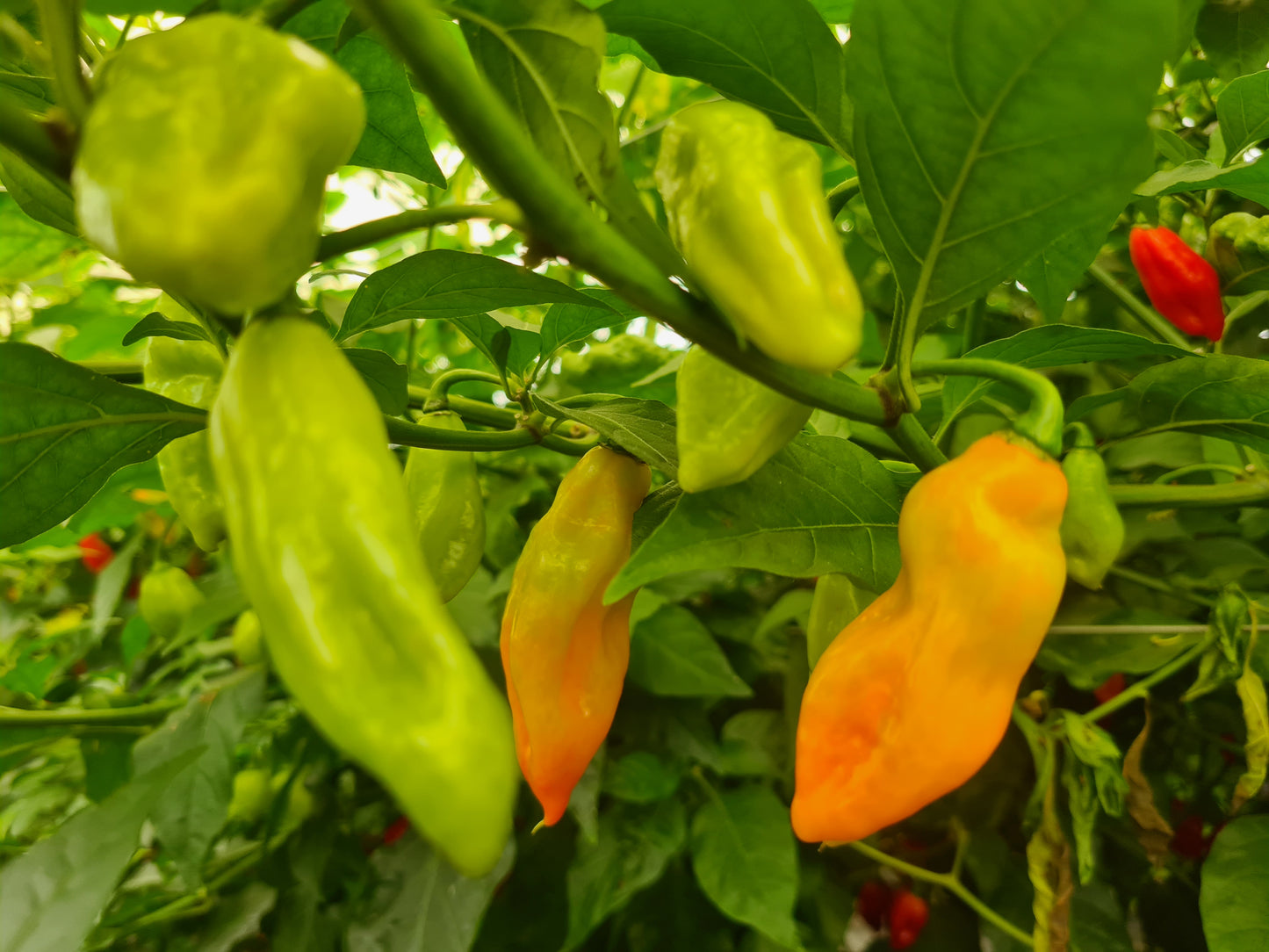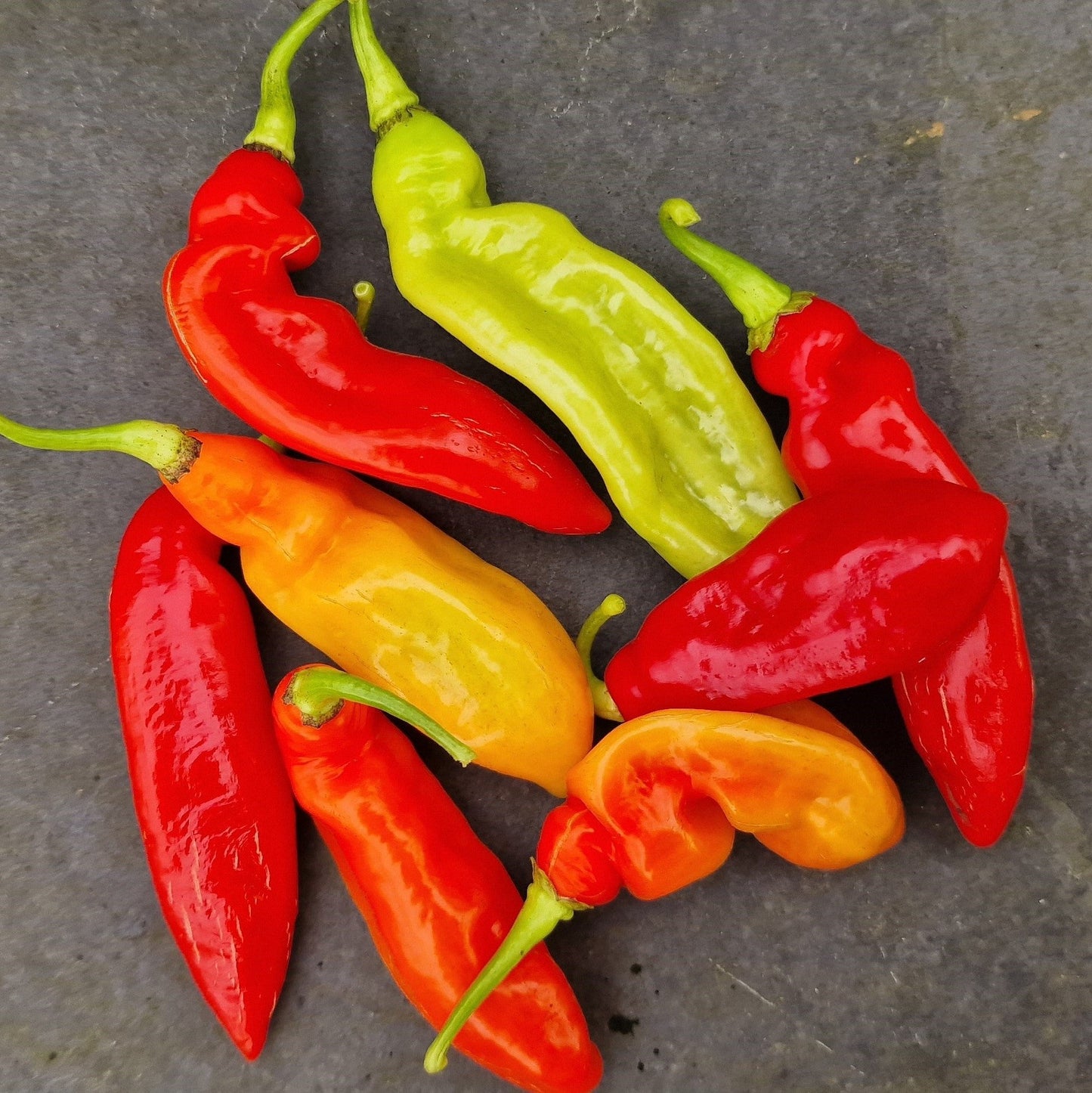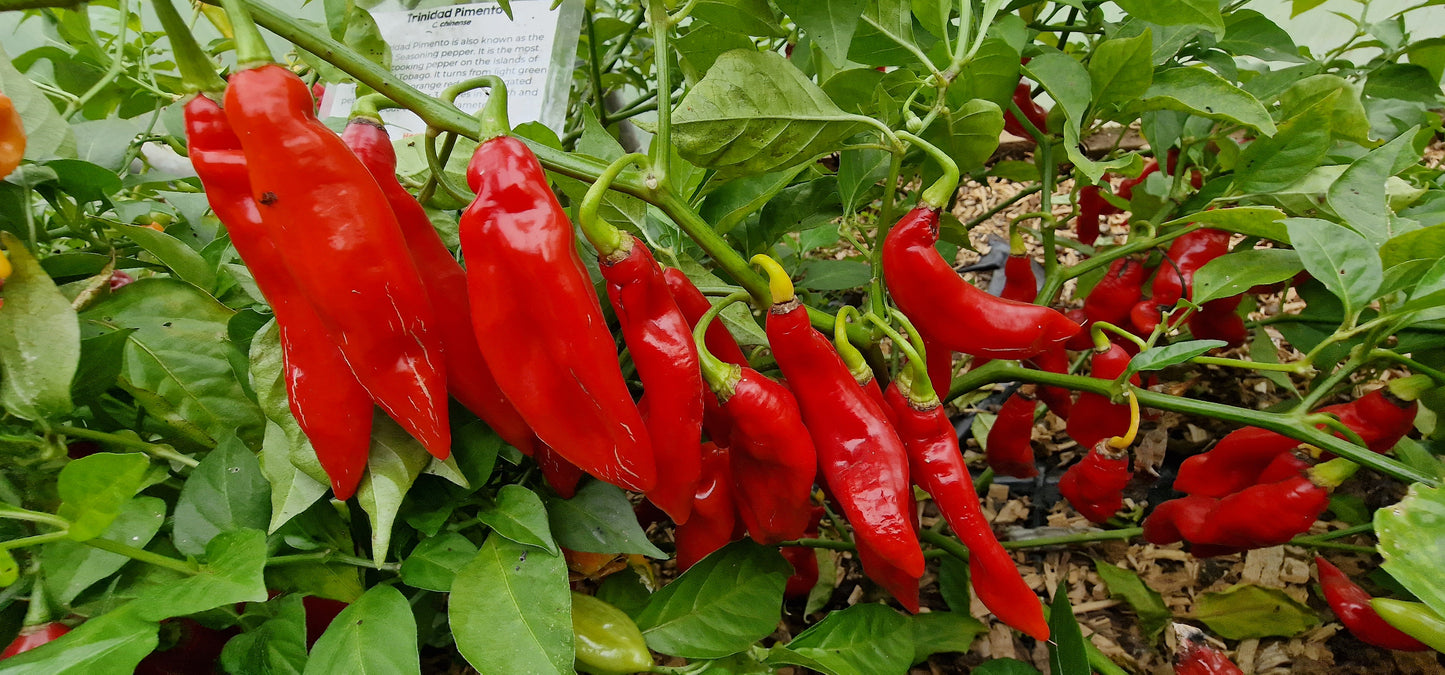 Great for windowsills
Wow what can I say?! This pot plant arrived well packaged with only a minimum of spillage in the bag. There are so many flowers on it, I can't wait until they turn into lovely chillis.
100% recommend SDCF and their products, all enquiries are dealt with quickly and by people who really know their stuff, the pot plants are fantastic and really boost confidence in unsure home gardeners, and the chilli chocolate, chilli chutney & chilli jam are awesome!!
Thriving
My pepper plant arrived in good condition, and now thriving in the greenhouse. Prompt delivery.
Third Order
This is my third order this season I wouldn't keep coming back if the plants weren't of the highest quality with a huge variety to choose from. The service is amazing, quick and beautifully packed. Now all I have to do is sit back and wait until they fruit.
Love that Trini pimento flavour
We love that Trini pimento flavour - and if this healthy looking plant with flowers showing already really delivers that unique flavour then I'll be so happy... me next review will give the verdict...
Shipping Info

Orders are sent the next working day (excluding pre-order items)

Ask The Experts / Chilli Hotline

Please get in touch if you have a question