Extremely Hot
Regular price
Sale price
£21.50 GBP
Unit price
per
Sale
Temporarily out of stock
All three of our 'Super' chilli range, our hottest sauces to date! in a great looking gift pack. If you know someone who loves really hot chillies, they'll love these sauces, just tell them to go steady when they try them until they know how much they need to reach the perfect heat! Packaged in pocket-sized bottles as you only need one drop for extreme heat. These extremely hot and fruity sauces are made with just fresh chillies (grown here on the farm), spirit vinegar and salt (no artificial additives or extracts).
Information
Ghost Sauce - We think you'll find it Scarily Hot! Made with Ghost chillies measured at just over 1 million on the Scoville Heat Unit scale.
Scorpion Sauce - Like its namesake this sauce will Sting you! Made with Scorpion chillies measured at just over 1.4 million on the Scoville Heat Unit scale.
Reaper Sauce - Delivers a Deadly Heat, and great fruity flavour! Made with Reaper chillies measured at just over 2 million on the Scoville Heat Unit scale. Container: 3x50ml glass bottles with tamper-evident seals.
Gift pack size: 12cm wide, 15cm high, 4cm deep.
Ingredients
Fresh Ghost/Scorpion/Reaper chillies (60%), spirit vinegar, salt.
Storage
Refrigerate once opened and use within 6 weeks.
View full details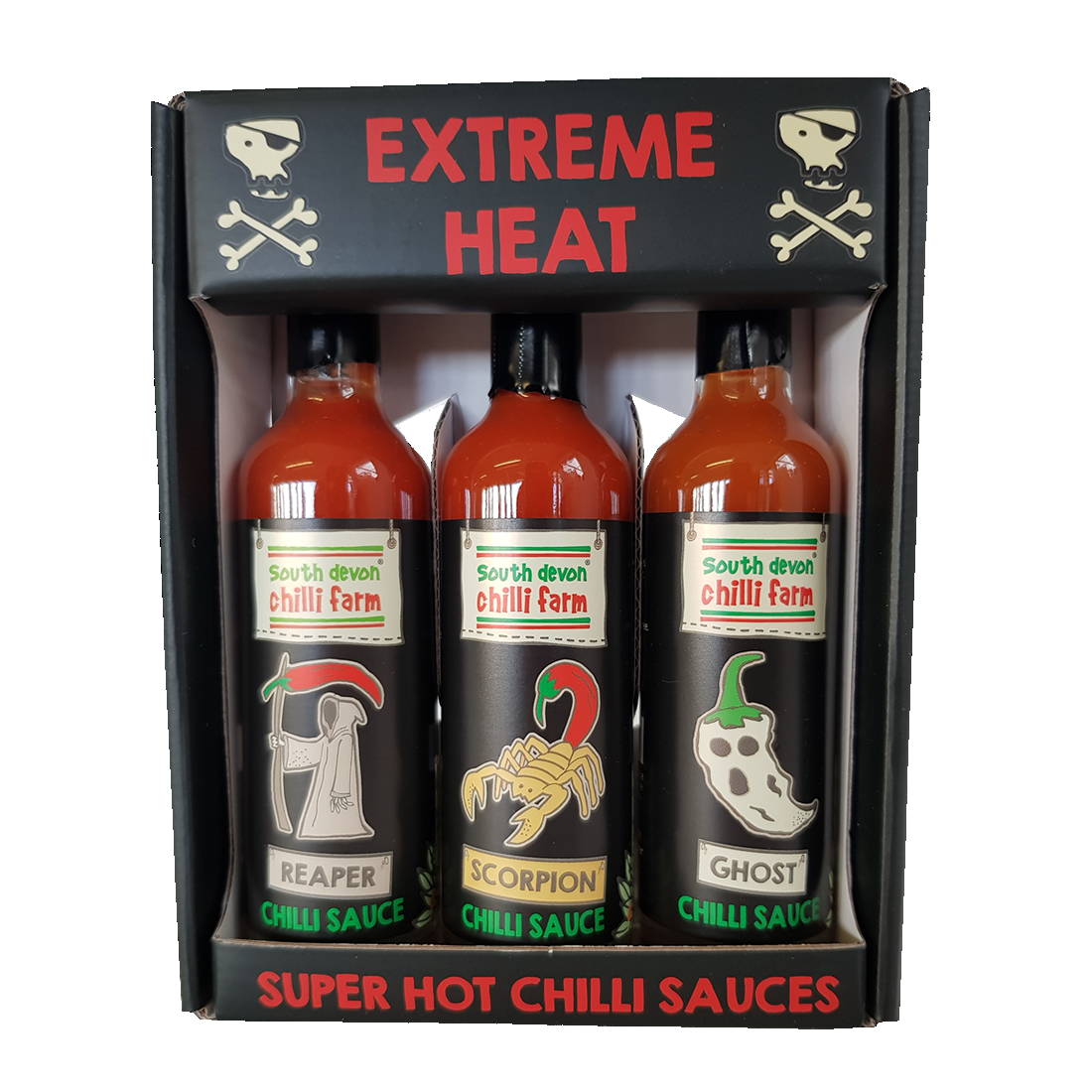 Hot hot hot
This was a birthday gift for my boyfriend who reckons there is no hot sauce too hot for him!! Fingers crossed this will blow his head off 😂
Lives up to the heat rating
Decided to get the gift pack so I could try the range for my first purchase from SDCF. Wanted something to live up to my heat needs and these do not dissappint. These are true to the chili's original heat level (not always the case with other brands) and they have an excellent flavour to boot. Highly recommend for the scoville connoisseurs out there!
Amazing
Bought this as a gift for my chilli loving boyfriend and he absolutely loved it. In fact, he couldn't get enough of it. Wish they come as a 100 ml bottle in this gift set so it can lasts him longer. Delivery was fast and prompt. Second time ordering something from South Devon chilli farm and never had any issues. Will be ordering again when he finishes with this set!
Seriously hot
I bought this for a freind who loves very hot food. He struggled to eat it, but said it tasted amazing.
hot and spicy
It is my favourite chilli sauce. I recommend it.
Shipping Info

Orders are sent the next working day (excluding pre-order items)

Ask The Experts / Chilli Hotline

Please get in touch if you have a question