Medium
Availability: April-Sep
Regular price
Sale price
£9.95 GBP
Unit price
per
Sale
Temporarily out of stock
The hugely popular Scotch Bonnet is used extensively throughout the Caribbean. The flavour is similar to other 'Habanero-type' chillies. The fruits are used to make hot sauces throughout the Caribbean. And the fresh fruits are often left to simmer as whole fruits in stews, soups and broths. This allows the fruit to release its rich fruity aroma without too much heat. The name 'Scotch Bonnet' comes from its resemblance to a Tam o'shanter hat.

There is a lot of confusion and misinformation around Scotch Bonnets. They are often purported as having a shape similar to a Bishop's Crown Chilli or a Jamaican Mushroom. While the name Scotch Bonnet suggests that is is similar to a Bishop's Crown, its has a completely different heat profile than the much milder Bishop's Crown. It has a heat level similar to a Jamaican Mushroom which can be either yellow or red. Additionally, Scotch Bonnets are Capsicum Chinense whereas Bishop's Crown are Capsicum Baccatum.

There has been intense cross breading of Scotch Bonnets over the years such that there is a wide variety of shapes and sizes and possibly no true original archetypical Scotch Bonnet. In fact, across the Caribbean where this chilli grows naturally, there are an almost infinite number of hybrids due to intentional cross breading and natural hybridization. We believe that this variety we have in stock is representative of the characteristics of what you'd expect from a good Scotch Bonnet chilli in terms of flavour profile and heat level. Have a look at the photo on the left that compares 6 fruits from the same plant - you can see that even on the same parent plant, there is a wide range of phenotypical variations. In the end, who cares what it actually looks like as it's all about the taste and heat with these chillies!
Heat level: approximate 200,000 SHUs. Learn about Scoville Heat Units (SHUs) here.
Harvest: Starts fruiting about 120 days from potting on as seedlings and under good growing conditions. Pick when the fruits have reached their maximum size. Fruits ripen from green to red.
Size: Plants can grow quite tall , over 100cm and will require support.
Capsicum chinense
Packaging & Shipping Information
Each plant is sent in its own box to keep it safe in the post and is shipped with full care instructions.

The plant varieties available will change throughout the season. Plants are sent in 1Ltr (13cm) pots.

Pre-ordered plants are shipped out as soon as the plants are mature enough and have a root ball which is strong enough to cope with the shipping process.
Growers Guide
Please find our chilli growing instructions here.
View full details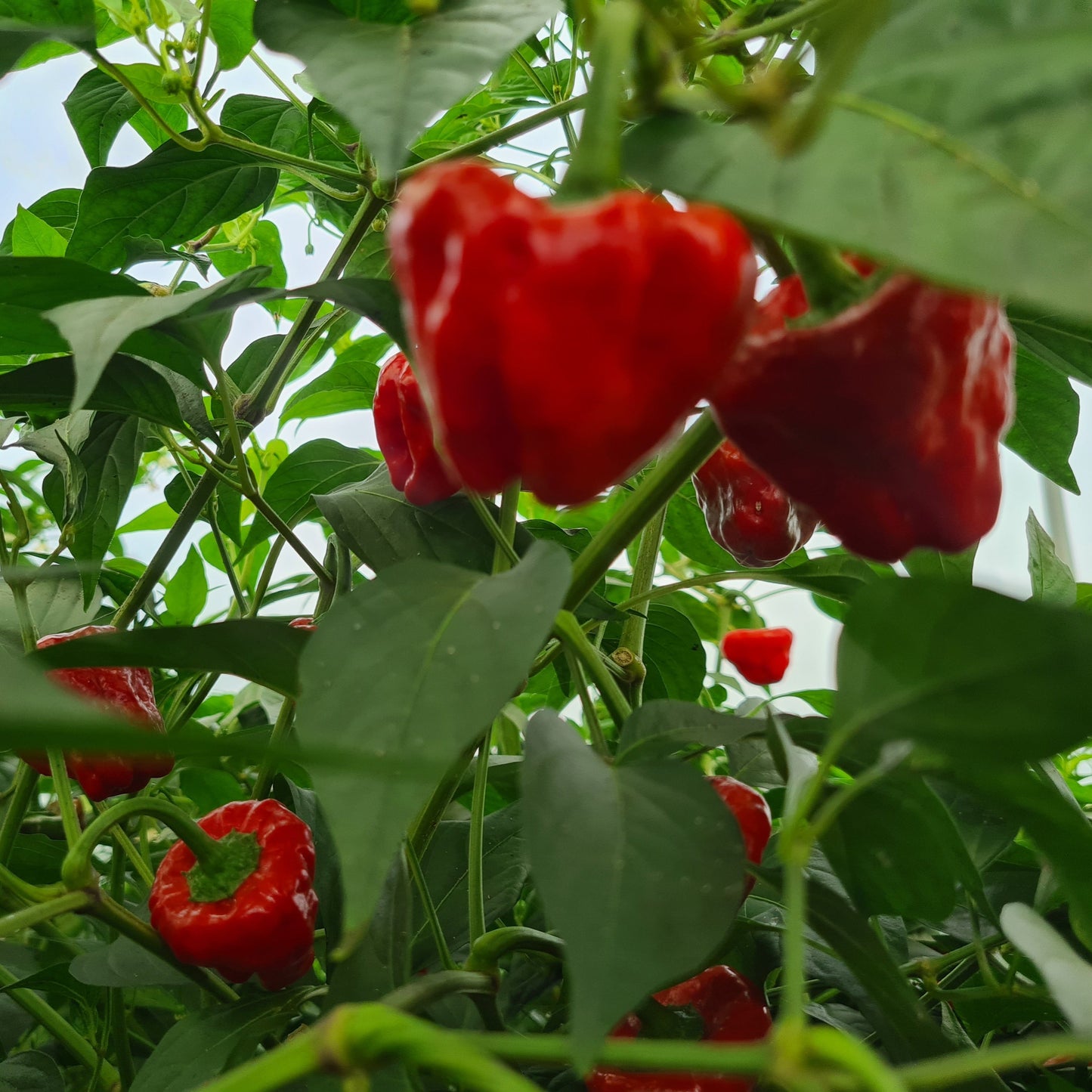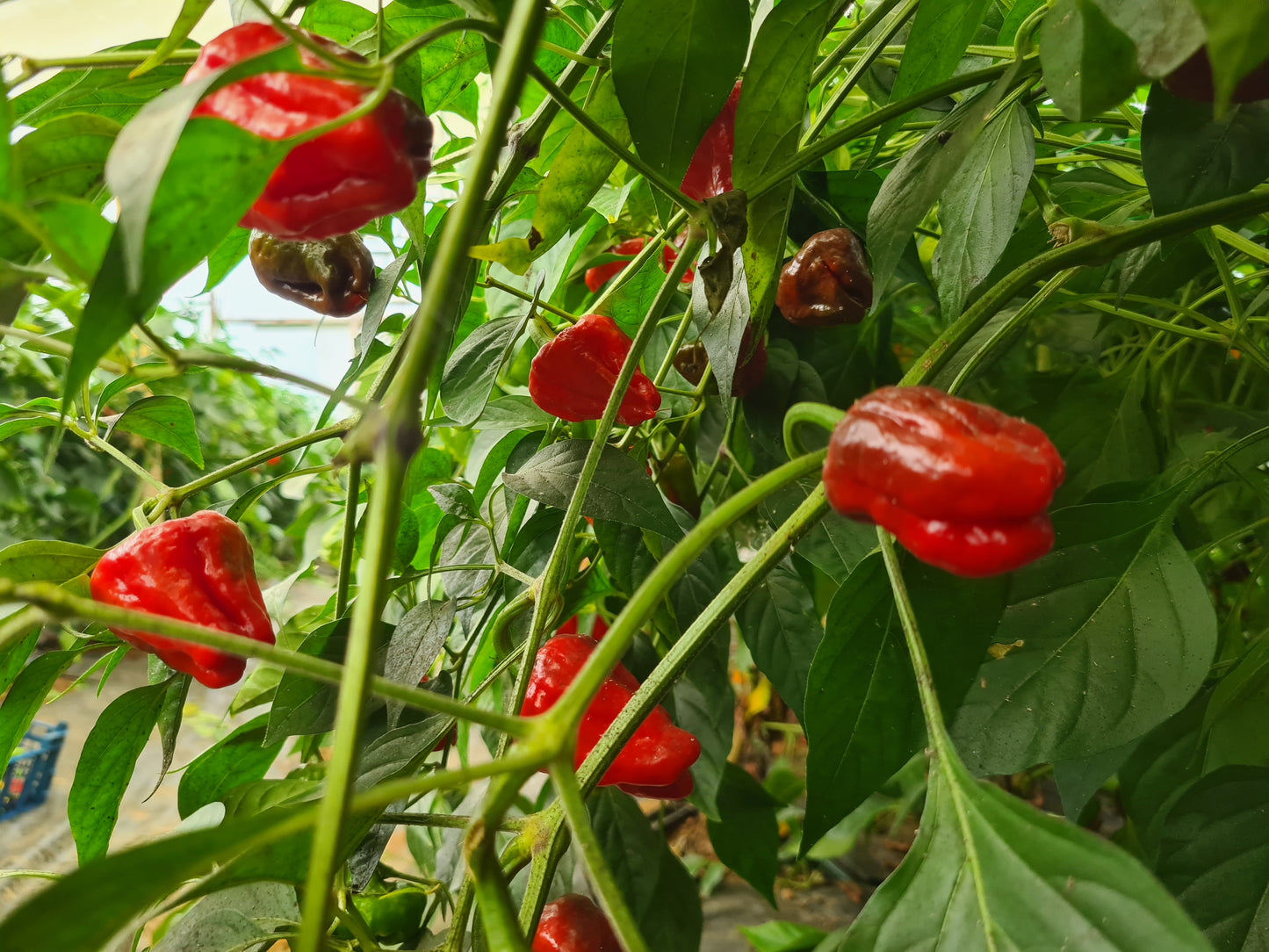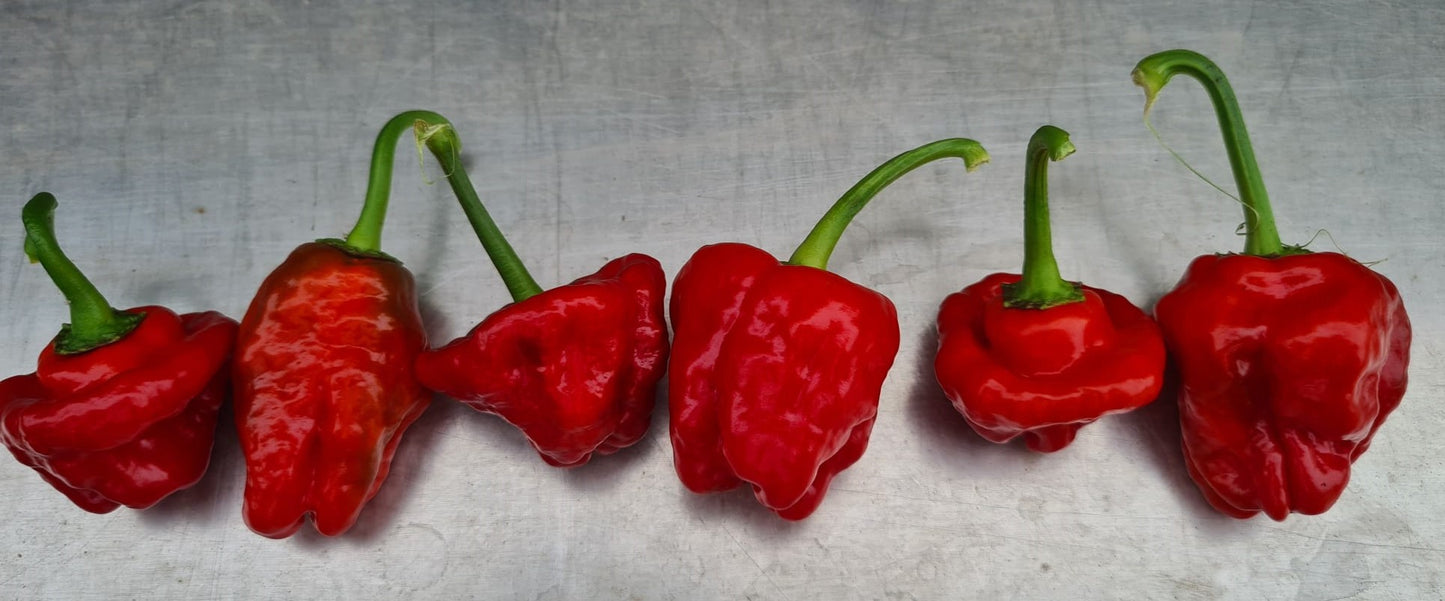 Shipping Info

Orders are sent the next working day (excluding pre-order items)

Ask The Experts / Chilli Hotline

Please get in touch if you have a question