Medium
Regular price
Sale price
£3.25 GBP
Unit price
per
Sale
Temporarily out of stock
This is one of our favourite varieties - easy to grow, amazingly productive, early cropping and a well proportioned and attractive bush. The conical-shaped 7cm-long chillies that are normally harvested yellow, but will ripen to red if left on the bush. This plant is very quick to produce full-sized fruit (65 days from potting on) and keeps on fruiting as long as conditions are favourable. The fruits are milder than Jalapenos and the flavour is sometimes said to be similar to melon. These thick-fleshed chillies are good for salsa, pizza toppings and make great chilli poppers (stuffed with cheese and grilled or baked).
Information
Heat: 5,000 Scoville heat units. Average contents 20 seeds.
Growers Guide
Please find our chilli growing instructions here. Note: not for commercial crop production
Storage
Store in a cool, dry place.
View full details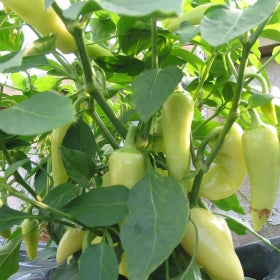 Shipping Info

Orders are sent the next working day (excluding pre-order items)

Ask The Experts / Chilli Hotline

Please get in touch if you have a question