Medium
Regular price
Sale price
£3.25 GBP
Unit price
per
Sale
Temporarily out of stock
A stunning plant for a windowsill or patio. A small (30cm), spreading plant with variegated white, purple and green leaves. The 2cm rounded, glossy, deep purple peppers ripen to bright red. This plant is also known by the name Trifetti.
Information
Harvest: Pick when the fruits turn red - about 100 days from potting-on. Note: seeds respond very well after a night soaking in water prior to sowing. Heat: 5,000 Scoville Heat Units. Size: 30cm High, fruits 2cm purple to red. Contents: 20 seeds per packet
Growers Guide
Please find our chilli growing instructions here. Note: not for commercial crop production
Storage
Store in a cool, dry place.
View full details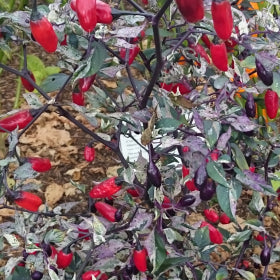 Not arrived yet
Would love to give you a review but unfortunately Royal Mail has failed to deliver them - as soon as they arrive I'll give you a review - looking forward to sending it to you
efficient service
loved the website, delivery was quick and seed packets simple but effective. Unfortunately 10 days on I haven't produced any seedlings.
Very pleased
I bought two packets of Purple Tiger Chilli's, they arrived within a couple of days. I planted them in the propagator and I'm pleased to say they are growing nicely. I will definitely be buying from South Devon Chilli farm again.
Shipping Info

Orders are sent the next working day (excluding pre-order items)

Ask The Experts / Chilli Hotline

Please get in touch if you have a question