Mild
Regular price
Sale price
£3.25 GBP
Unit price
per
Sale
Temporarily out of stock
This is the variety we have selected on the farm. They have a good nature, producing a long cropping season. The fruits are best picked young (when light-green and once the fruit body is about 5cm long). These peppers are traditionally picked immature before they have developed any heat. You may have seen the fruits in Spain or in Spanish Tapas bars; they are usually quickly fried in olive oil and sea salt and served hot. You can get the odd hot chilli in a batch and so they are often referred to as Russian Roulette chillies!
Information
The plants can grow to 2m high and produce a perpetual crop throughout the summer provided you keep picking them. If left to mature, the fruits turn a light red and grow to about 10cm long and 4cm wide at the shoulder - and taste a lot hotter. Heat: very mild/heatless if picked early/small-size. 3,000 - 8,000 Scoville heat units if picked late/large-size. Average contents 20 seeds.
Growers Guide
Please find our chilli growing instructions here. Note: not for commercial crop production
Storage
Store in a cool, dry place.
View full details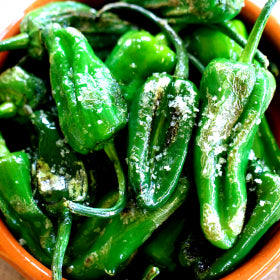 Chilli purchase
I ordered some chilli seeds and they arrived
a little disappointing
A relatively expensive pack of seeds - £4.00 for 'approximately' 20 chilli seeds, and when I opened the pack, only 18 seeds in the pack. So usually I wouldn't be too bothered, but at that price, that's 40p value of seeds not sent, which is a little disappointing. Currently, I have good germination results, so that's encouraging. But it's too early to tell the quality of the plants, so this review based on very early results.
Shipping Info

Orders are sent the next working day (excluding pre-order items)

Ask The Experts / Chilli Hotline

Please get in touch if you have a question