Very Hot
Regular price
Sale price
£3.25 GBP
Unit price
per
Sale
Temporarily out of stock
Early fruiting and productive red habanero. Elongated, lantern-shaped fruits are 5-7cm long. Tall plants with a colourful display through the summer as the fruits change from lime green through to orange to scarlet red as they ripen.
Information
The fruits are ready to pick at around 90 days after the seedlings have been potted on, and the plant will continue cropping as long as suitable conditions are maintained. The fruits are very hot - up to 350,000 Scoville units. Contents: 20 seeds per packet.
Growers Guide
Please find our chilli growing instructions here. Note: not for commercial crop production
Storage
Store in a cool, dry place.
View full details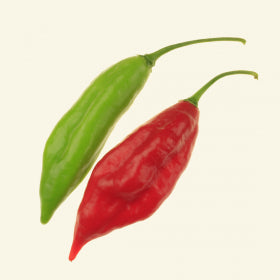 My 'go to' chilli
Grown for 2 seasons now, first season was epic for this chilli, so grew it again this year and even though the season was poor compared to last, the Paper Lantern was easily my top performer with a great yield again. The pods themselves are great tasting with a good habanero heat lending themselves to many recipes and products. Ordering again for next year.
Not to be used until next year
not using until next year but service and delivery were excellent will definitely use again
Shipping Info

Orders are sent the next working day (excluding pre-order items)

Ask The Experts / Chilli Hotline

Please get in touch if you have a question