Medium
Regular price
Sale price
£3.25 GBP
Unit price
per
Sale
Temporarily out of stock
This Jalapeño is the variety we grow at the farm. We have collected the seed from isolated (netted) plants in our crop. The plant produces an abundance of large (up to 10cm long, 3cm wide) fruits with thick walls and a medium heat. This is the chilli we make our Jalapeno sauce from. Fresh Jalapenos are great in salsas, thinly sliced for nachos or pizza toppings, or pickled to preserve them. When ripe, they are often smoked and dried and are then called Chipotle and used to flavour sauces, soups and stews.
Information
The plants are upright, 3 to 4 feet tall with woody stems. The fruits take about 75 days from sowing to harvest with each plant producing 20 to 30 fruits which are typically 8 to 10cm long and 2 to 3cm wide and conical. The plants usually need some support as they start to fruit, to avoid branches being broken by the weight of fruit. The heat level of Jalapenos is around 6000-8000 Scoville Heat Units. Recipe: Poppers - Slice fruits in half lengthwise, de-seed, fill halves with cream cheese, re-assemble chillies, dip in whisked egg, dip in breadcrumbs. Put in freezer for 2 hours, then deep fry and drain. Serve warm.
Growers Guide
Please find our chilli growing instructions here. Note: not for commercial crop production
Storage
Store in a cool, dry place.
View full details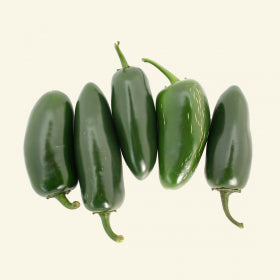 Still not received them
I wrote to the South Devon Chilli Farm over a week ago to say they haven't arrived and now I've been asked to write a review. Well- I still haven't got them. So not great
Super hot!
Plants have grown very well from seed and producing plenty of fruit, but they're pretty hot - much hotter than the description suggests, and hotter than I'd expect from this kind of chilli.
Harvesting Jalapenos
Started these off in January and now have several healthy plants growing outdoors in pots that have produced plenty of chillies. The few we have harvested so far a excellent.
Superb
Using some IKEA glass jars (spray painted black) I've grown these with hydroponics. I've only used two seeds and both have grown fantastically well. Just under the three month mark now and the first will be ready for harvest in a week or two. Long story cut short - great quality seeds and the plant looks very healthy.
Jalapeño Seeds
Excellent quality seeds. Many thanks
Shipping Info

Orders are sent the next working day (excluding pre-order items)

Ask The Experts / Chilli Hotline

Please get in touch if you have a question