Extremely Hot
Regular price
£0.00 GBP
Sale price
£6.30 GBP
Unit price
per
Sale
Temporarily out of stock
Our Extreme Chilli Sauce in a smart gift pack printed with fascinating facts about the mighty Bhut Jolokia chilli, also known as the Ghost or Naga chilli. This is an award-winning, extremely hot sauce - a little goes a long way! A perfect gift for anyone with a passion for spicy hot food.
Information
A few drops go a long way, and one bottle lasts a long time. Add a couple of drops to a chilli or curry for a great shot of heat; if you like things even hotter, add a few drops to any plate of food at the table! Heat Rating: 10/10 (300,000-500,000 Scoville Heat Units). Container: 100ml glass bottle with tamper-evident seal, packaged in our branded gift box.
Ingredients
Dried Bhut Jolokia chillies (imported - 8%, equiv.50% once rehydrated), fresh Bhut Jolokia chillies (2%) red peppers (40%), spirit vinegar, salt.
Storage
Refrigerate once opened and use within 6 weeks.
Awards
View full details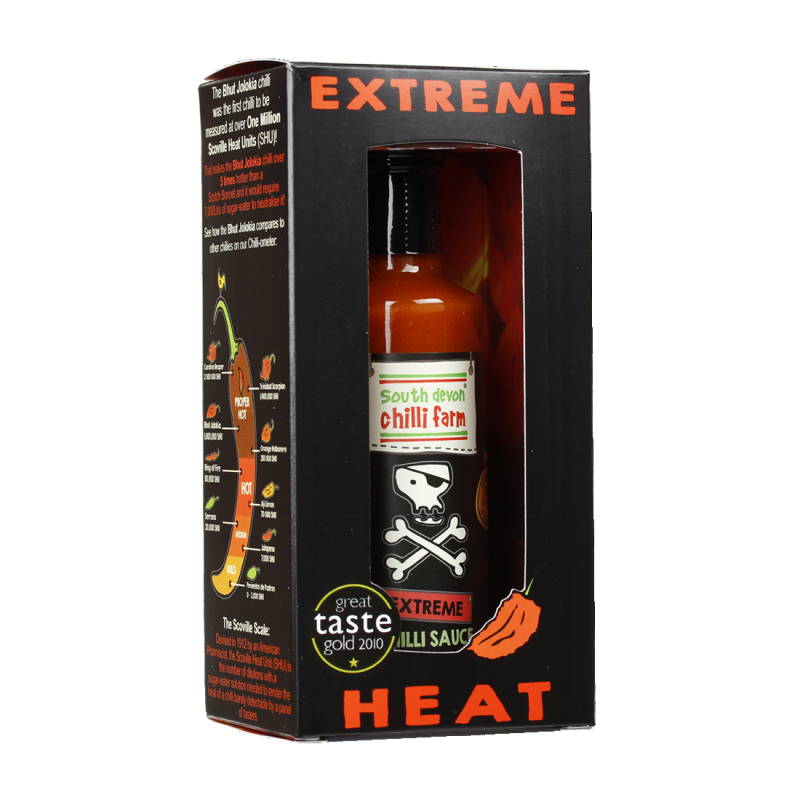 Spicey
This sauce is not for the person who doesn't have milk in the fridge. It's perfect on cheese and tomato breaf rolls or a sandwich.
Hot chills and favourite
Excellent challenge for my drinking partners at the pub.
Shipping Info

Orders are sent the next working day (excluding pre-order items)

Ask The Experts / Chilli Hotline

Please get in touch if you have a question