Extremely Hot
Regular price
Sale price
£4.70 GBP
Unit price
per
Sale
Temporarily out of stock
Extremely Hot Chilli Sauce made with fresh and dried Bhut Jolokia chillies for a longer and more immediate heat sensation! This very very hot and fruity chilli sauce is made with Bhut Jolokia chillies (aka. Ghost or Naga) which have been recorded at over 1 million Scoville Heat Units. There is no chilli extract in this product - it is just Bhut Jolokia chillies, red peppers, spirit vinegar and a little salt. The combination of chillies and peppers create a great tasting sauce with a powerful punch of heat.
Information
A few drops go a long way, and one bottle lasts a long time. Add a couple of drops to a chilli or curry for a great shot of heat; if you like things even hotter, add a few drops to any plate of food at the table! Heat Rating: 10/10 (300,000-500,000 Scoville Heat Units). Container: 100ml glass bottle with tamper-evident seal.
Ingredients
Dried Bhut Jolokia chillies (imported - 8%, equiv.50% once rehydrated), fresh Bhut Jolokia chillies (2%) red peppers (40%), spirit vinegar, salt.
Storage
Refrigerate once opened and use within 6 weeks.
Awards
View full details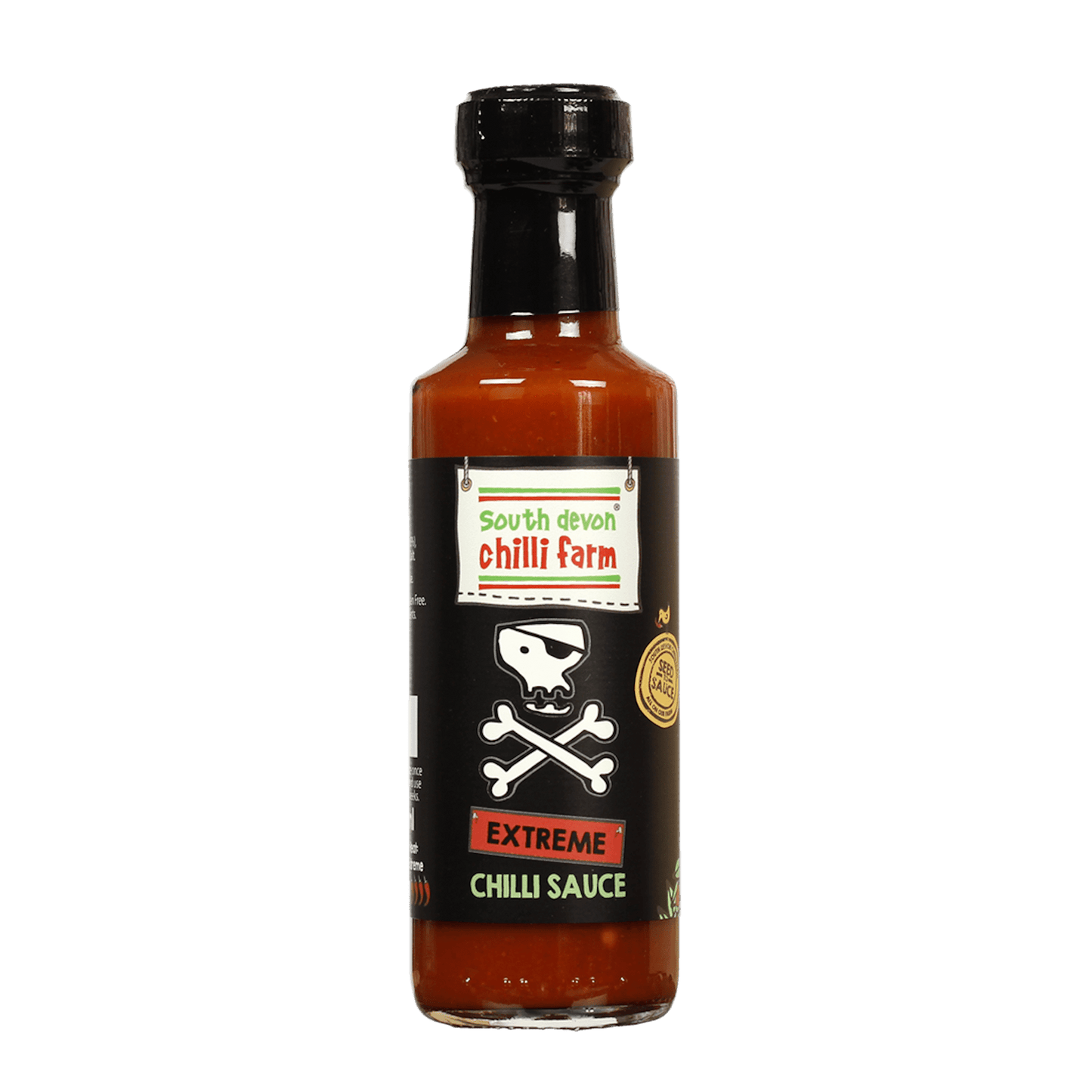 Best spicy sauce on the market
I am not a huge spice fan, an although this is hotter than I would normally go for, the taste and quality ensure it's still really enjoyable. You can tell its made with high-quality fresh chillies. Would highly recommend it.
Nobody Does It Better
Nothing comes close to the quality and ingredients of SDCF's Extreme range; a sublime kick of heat without destroying the flavour of the food you add it to.
This sauce has been a long-time favourite; the perfect chilli combination (not powdered substitutes) brings delight to the tastebuds.
I challenge you to find a better alternative! (Although, please don't tell too many people, because my local shop keeps selling out!)
(Supermarkets kill manufacturers' margins and force producers to use inferior formulas. So find SDCF Extreme at a farm or garden centre food store, or buy direct. You will not be disappointed!)
5 star without hesitation
I have bought from these for a few years now, fantastic service, prompt delivery and delicious produce, highly recommend.
Hot hot hot and very nice
Best range of chilli sauced
Extreme is my go to, been buying from SFDC for years. Usually mail order, Howe I do like to pop by when in Devon
Shipping Info

Orders are sent the next working day (excluding pre-order items)

Ask The Experts / Chilli Hotline

Please get in touch if you have a question