Very Hot
Regular price
£0.00 GBP
Sale price
£4.60 GBP
Unit price
per
Sale
Temporarily out of stock
We added the mighty Bhut Jolokia chilli to our original Belgian Plain Chocolate (60% cocoa) to make an Extreme version of our classic Chilli Chocolate. This chocolate is much hotter than any other chocolates in our range, but is still a great taste combination!
Product Information
This Chilli Chocolate also makes a great addition to chilli con carne recipes, to give your meal a rich colour and flavour. The chocolate is still handmade and each box contains at least 80g of handmade chocolate 'slices' (a cross between a slab and a wafer).
Ingredients
Chocolate: 99% (cocoa solids: 60%, sugar, soya lecithin(E322), natural vanilla), dried Bhut Jolokia chillies: 1%
May contain traces of milk and nuts
Storage
Store in a cool, dry place away from direct sunlight
View full details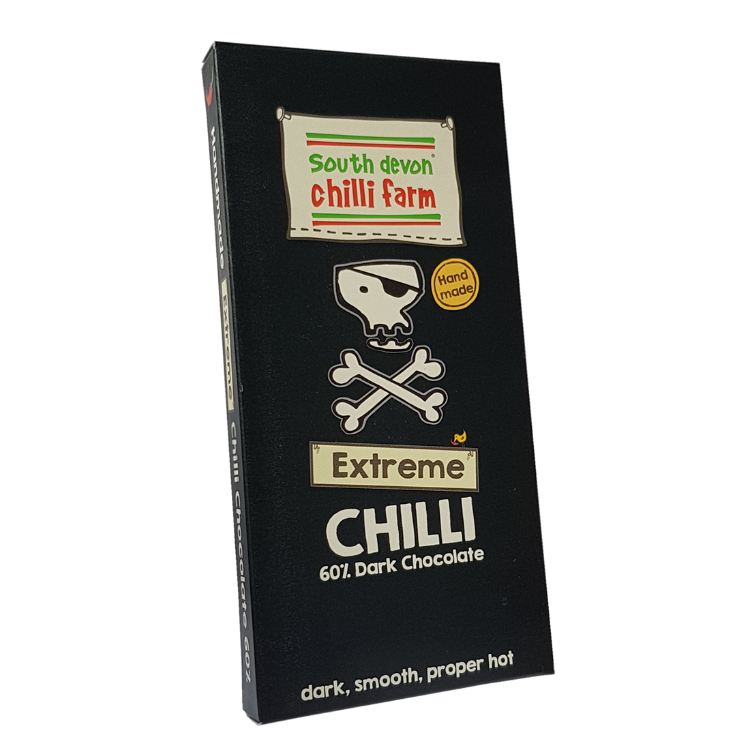 Nice chilli kick, but there is another kick too
This is a smooth dark chocolate with a very niche chilli kick, however the first kick is to your wallet at £5.75/100g this is more than double the comparable Green & Black's Organic 70% Dark Chocolate at £2.86/100g, and thats before P&P.
Great tasting Choc but could be hotter
Really nice smooth tasting chocolate, but a little disappointed with the heat. It has a bit of a kick and leaves your mouth warm rather than hot.
Highly Addictive
Probably my favourite chocolate, to which I am sadly addicted. Hardly a day goes past without me having a few mouthful's (for health reasons obs!) I highly recommend you try some, but you will have to buy your own as I'm reluctant to share mine.
Shipping Info

Orders are sent the next working day (excluding pre-order items)

Ask The Experts / Chilli Hotline

Please get in touch if you have a question