Medium
Regular price
Sale price
£3.90 GBP
Unit price
per
Sale
Temporarily out of stock
These chillies have been grown, harvested & dried on our farm here in the UK. This mild/medium heat chilli is ideal for adding bright-red colour and heat to sauces, soups, stews and salsa. Soak in hot water for 30 minutes, puree and force through a sieve to make a paste to add to pasta sauce, pizza topping or your favourite Mexican dish. These dried fruits are 5"-7" long.
Information
40g bag (about 10/15 fruits). Heat: 3/10. Must be cooked before eating.
Storage
Store in a cool, dry place.
View full details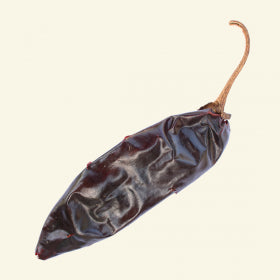 Used for Kimchi!
To make kimchi, you need dried chillies. I could find it from shops around where I live but they are imported ones. I wanted to find locally grown and dried but gives a good spicy kick to make my kimchi.
When I received 2 packets I ordered they were all in excellent conditions and the quality was very good! I know where to buy dried chillies for my kimchi now!
Essential chillis
I was originally gifted a packet of these, as soon as I ran out I rushed here to get more, they'd become essential to my cooking without me even noticing. They have a fantastic flavour, and a measured heat. My family don't react well to blisteringly hot chillies, so habernero or scotch bonnets are out of the question for them, but chillies like these enable me to create wonderful chillie flavoured dishes that pack excatly the right amount of heat to get attention without being a turn off.
Shipping Info

Orders are sent the next working day (excluding pre-order items)

Ask The Experts / Chilli Hotline

Please get in touch if you have a question