Extremely Hot
Regular price
Sale price
£4.20 GBP
Unit price
per
Sale
Temporarily out of stock
The world's hottest chillies in 2017! Very, very hot and fruity, these chillies are grown and dried on our farm and retain their vibrant red/orange colour.
Information
We recommend taking precautions when handling them: avoid contact with eyes, wear gloves at all times when handling and wear a dust/vapour mask if you are grinding or rehydrating and reducing to a paste. See our Chilli Handling kit on our gifts page. Part of our Super extreme heat range, we also have a Reaper chilli sauce. 10g Bag (around 12 chillies). Heat: 12/10 (They have been measured at just over 2million Scoville Units). Must be cooked before eating.
Storage
Store in a cool, dry place.
View full details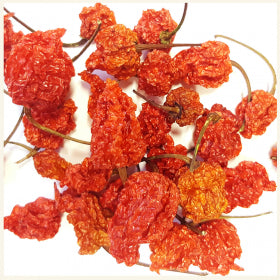 Best place to get chilli!
Super spicy awesome products and very affordable!
Horrible
Package came with a hole in the bag, the chillies were few and the ones there were hard 'woody' and yellow. Couldn't even be bothered claiming back for such a low value order.
Hot stuff
Excellent service, speeedy delivery thanks
Perfect service
These reapers are superb, stupidly hot yet tasty, re hydrated them and put one in a curry, wow! Next day, well that's another story ha! This is the best company to buy chillis from, I've bought from here a couple of times in the past. Top marks
Shipping Info

Orders are sent the next working day (excluding pre-order items)

Ask The Experts / Chilli Hotline

Please get in touch if you have a question