Extremely Hot
Availability: April-Sep
Regular price
Sale price
£11.45 GBP
Unit price
per
Sale
Temporarily out of stock
The Carolina Reaper has been measured at over 2 million scoville units and is the hottest chilli we currently grow. This chilli was given the 'hottest in the world' title in August, 2013 and was bred by the PuckerButt company in South Carolina, USA. Incredibly, the record for eating three of these fruits is just over 12 seconds!
Heat level: 1,800,000 to 2,200,000 SHUs. Learn about Scoville Heat Units (SHUs) here.
Harvest: Starts fruiting about 120 days from potting on as seedlings and under good growing conditions. Pick when the fruits have reached their maximum size. Fruits ripen from green to red.

Size: Plants can grow quite tall about 1m and will require support. 
Capsicum chinense
Packaging & Shipping Information
Each plant is sent in its own box to keep it safe in the post and is shipped with full care instructions.

The plant varieties available will change throughout the season. Plants are sent in 1Ltr (13cm) pots.

Pre-ordered plants are shipped out as soon as the plants are mature enough and have a root ball which is strong enough to cope with the shipping process.
Growers Guide
Please find our chilli growing instructions here.
View full details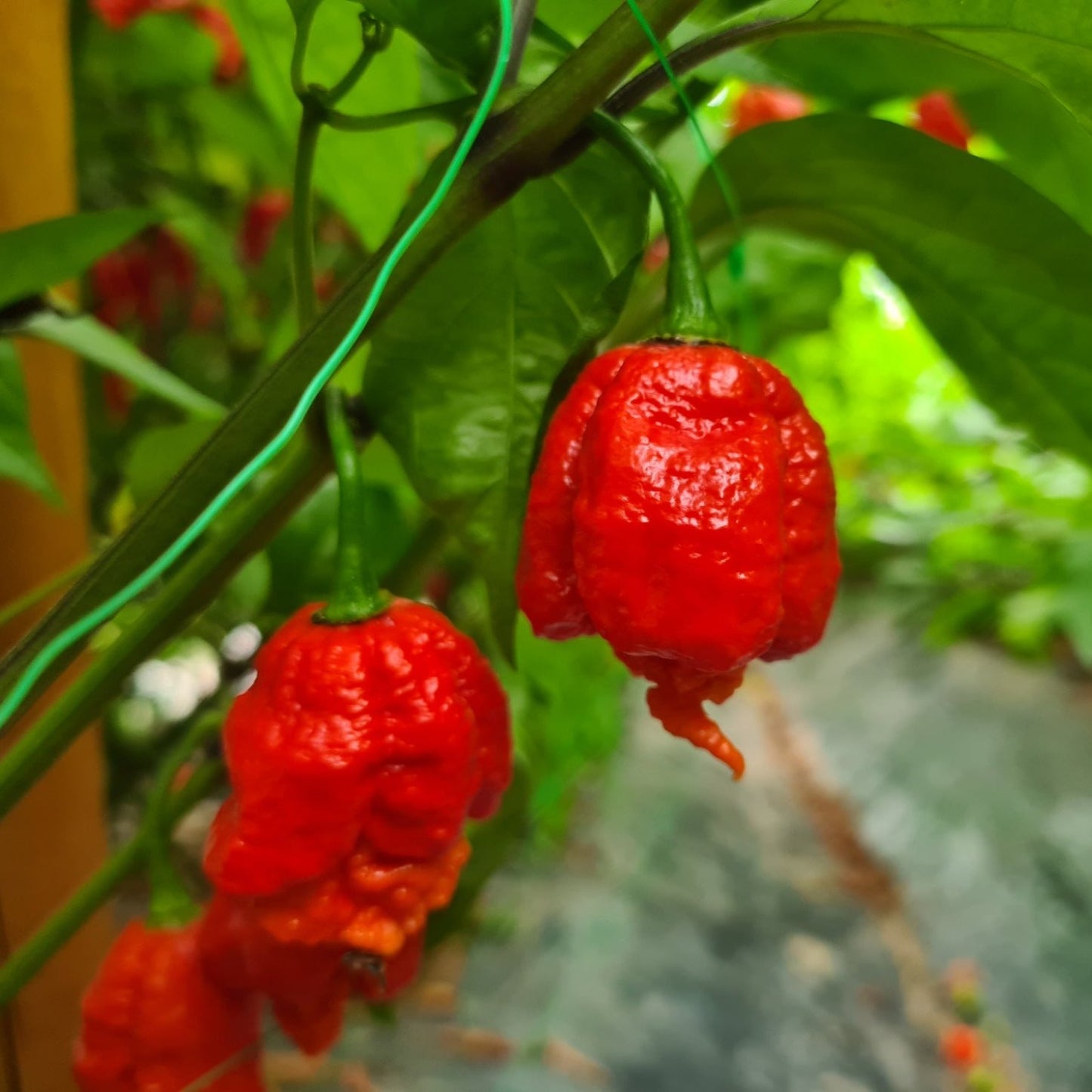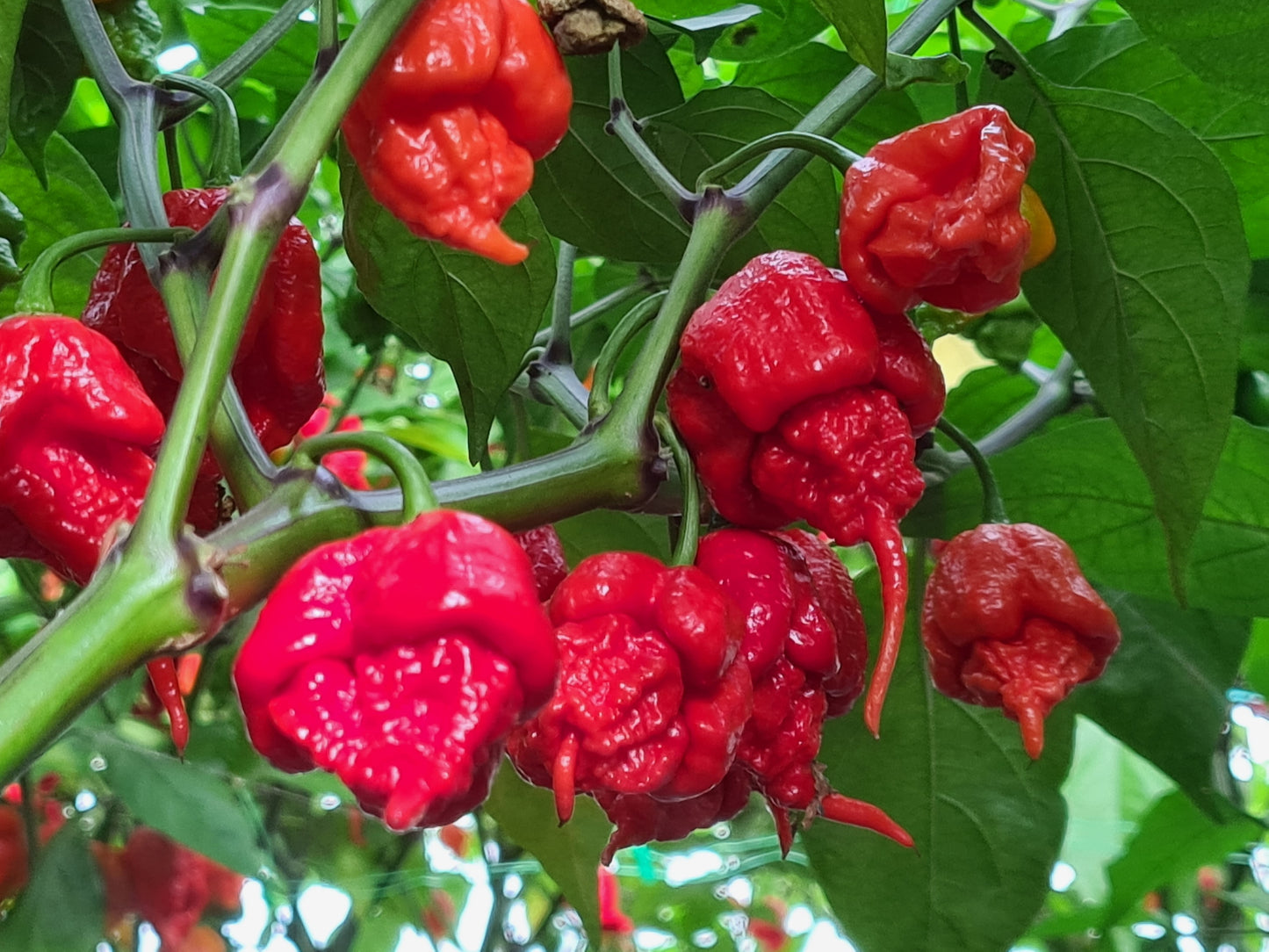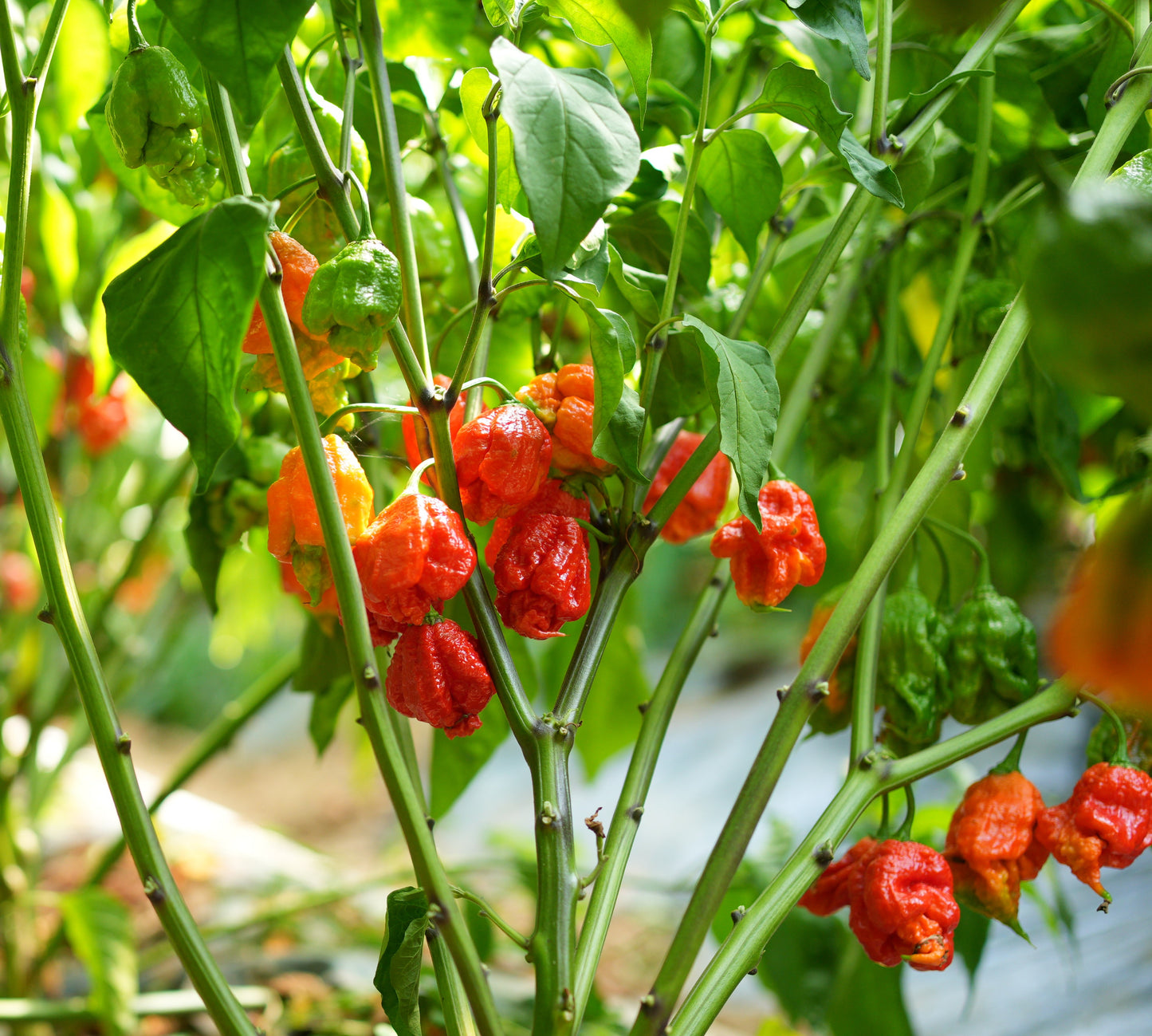 Just WOW!
Purchased one plant earlier this year and have just harvested a lovely crop of peppers from this.
I was curious to see what all the fuss was about with the Reaper and it certainly does not disappoint! I like hot dishes but I have NEVER tasted anything on this scale before.
Tried them raw, only a tiny sliver as I was a bit wary, and it almost blew my head off! Lovely earthy taste initially turned into a full on conflagration in my mouth and I was left tasting spice for hours after.
I made the mistake of using the chopping board I use for cheese and two weeks on, after a number of washes, my cheese is still coming away with a strong, but very pleasant, chilli hit.
I have chopped and dried the remainder and look forward to incorporating them into different dishes to "surprise" my family.
Next is to see if I can manage to overwinter my plant for another crop next year.
Excellent service, excellent product, and mind blowing heat!
Hi picked up Reaper and Bohk Joloka . they are coming along fine.Pop them out
Hi
Picked up Reaper and Bohk Joloka 10 May lovely plants.
Pop them out in the morning to get them ready for outside growth.
Have bought many seeds from S Devon farm and always had good results.
Keep up the good work, Bonsias on site are a pleasure to view
Many thanks
Chillie lover
Chilli plants
The caroliner reaper plant's i bought arrived in excellent condition well packaged potted them in 10 inch pots and they are thriving flowers are already forming so hoping for a bumper crop.
Great Quality Plants
This is my second purchase from the South Devon Chilli 🌶️ Farm and I've been very impressed with the quality of the plants received. They are very well packaged and always arrive as planned looking in tip top condition. The prices are always competitive and customer service is excellent. Highly recommend South Devon Chilli Farm 🌶️ 🌶️ 🌶️ 🌶️🌶️
Rated 5 Chillies
Shipping Info

Orders are sent the next working day (excluding pre-order items)

Ask The Experts / Chilli Hotline

Please get in touch if you have a question