Medium
Regular price
Sale price
£6.50 GBP
Unit price
per
Sale
Temporarily out of stock
The Pasilla chilli (pronounced pah-SEE-yah - meaning "little raisin" due to the wrinkled skin) is dark brown when ripe and turns almost black when dried. This chilli is commonly used in conjunction with Ancho Poblano and Ancho Mulato chillies to make Mexican mole sauces (see our Red Mole recipe). The fruits a very dark brown colour, long (8") and just under 2" wide.
Information
Storage
Store in a cool, dry place.
View full details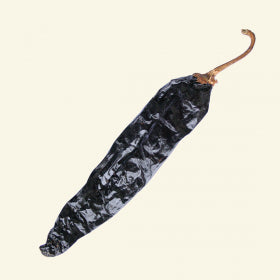 Got gifted these, became instantly addicted.
I was given a packet of these for a birthday gift, now I'm coming back for more. Soaked and processed for a whole range of dishes (probably some of them culturally inapropriate, I don't know what i'm doing but I love the results) they've garnered compliments for the depth of flavour they add to my cooking, as well as a controlable level of gentle heat.
Shipping Info

Orders are sent the next working day (excluding pre-order items)

Ask The Experts / Chilli Hotline

Please get in touch if you have a question